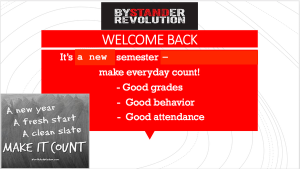 Welcome back to Quarter 3! Students will receive Semester 2 schedules in their first hour (2nd period) classes Tuesday 01/08.
Some upcoming dates:
01/10: Town Hall meetings for 2nd semester's expectations (teacher escort students to cafeteria at appointed times)
01/15: Report cards go home for Q2
01/21: Holiday — no school for students/staff
01/31: Honor Roll for Q2
Join Remind for updates and school information on upcoming dates!