3/25/2020 UPDATE: AP Exam Review is cancelled. Today starts online AP Reviews by College Board on their Youtube channel. AP Exams will be taken at home. More info to follow.
As of 3/5/2020, AP Exams begin in 60 days. Students in AP classes will want to begin preparing for their AP exams now, if they haven't already.
On Saturday, 3/28 at 8:00AM, Pasco Schools is offering their annual AP Review Day with sessions focused on many of the AP exam areas.
FIRST-COME FIRST-SERVED limited availability — don't wait to sign up or it may be closed. STEP 1: go to https://apreviewday2020.sched.com and login/create account. STEP2: select your sessions.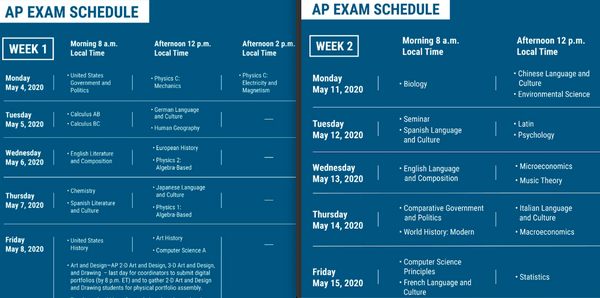 AP exams begin Monday May 4th 2020. See above image for schedule