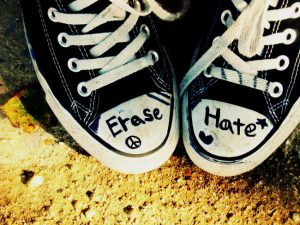 Erase The Hate Week is RBSMS' annual event celebrating everyone's uniqueness and appreciating our differences. Starting 9/21-10/1, each day has a different theme, video, and activities to help us al build the best school climate possible!
Monday 9/24's theme:  Power of the Bystander — Different is Cool!
Today's Remind messages, news message & video, ACT time video, and teacher-led ACT discussion all focused on the power of the bystander to intervene (4D's were taught during Counselor lessons: Direct the bully to stop, Distract the bully, Delegate an adult to intervene, Delay – check back on victim, ensure they're ok.