Having a work force that is knowledgeable and customer-focused ensures that Pasco County students have nutritious, safe, and high quality menu selections in warm, welcoming, and fun environments.
The importance of professional development cannot be overemphasized, especially in the child nutrition field. By participating in professional development and keeping abreast of child nutrition changes, nutrition advancements, techniques and knowledge in the profession, employees become valuable school nutrition professionals and have more career advancement opportunities. Professional development is available for every school nutrition employee, regardless of his or her current position and work location.
Training is a great tool to encourage career advancement for employees as well as professional development. One of these opportunities is our manager internship program which is a 15 week program which begins with a 12 week rotation in schools (elementary, middle, and high), followed by two weeks of team building and review. To apply for this program, applicants MUST HAVE ONE YEAR EXPERIENCE with Pasco County Food and Nutrition Department and/or an EXTERNAL EQUIVALENT of managerial experience. Applicants only need to apply if they are committed to pursing a career /advancement with the FNS team. For more information, please contact JoHannah Kolianos in Team Development (ext.42403).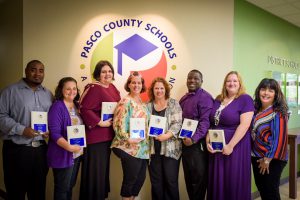 2018/2019 Manager Internship
Key Performance Indicators
Professional development courses are organized into eight key areas. Within each area, courses are offered during the summer and throughout the school year.
Key Area 1: General School Food Service

Key Area 2: Safety and Sanitation

Key Area 3: Cooking Principles

Key Area 4: Menu Planning and Production

Key Area 5: Nutrition Wellness

Key Area 6: Communication and Marketing

Key Area 7: Finance and Technology

Key Area 8: Leadership Development
Make sure to keep an eye out for upcoming trainings with Food & Nutrition Services on our Training Calendar.
You can find other professional development opportunities and materials at the following recommended websites:
School Nutrition Association is the professional association for employees. SNAP is the local chapter which offers meetings and events monthly.
FDACS is the Florida Department of Agriculture and Consumer Services, which is the state agency implementing the state school nutrition programs. FDACS provides online and classroom training opportunities to districts.