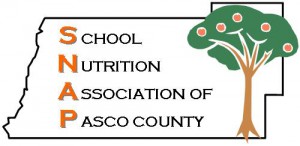 The School Nutrition Association of Pasco County (SNAP) is a local association affiliated with the National School Nutrition Association (SNA) and the Florida School Nutrition Association (FSNA). We are a member of SNA, which is the only professional association dedicated solely to the support and well being of school nutrition professionals in advancing good nutrition for all children.
Membership
Pasco County employees are encouraged to be the voice of child nutrition. We are proud of our profession and the work we do to help build a healthier student body. Your participation in SNAP can help motivate others, inspire tomorrow's child nutrition leaders, and change the face of child nutrition in Florida, the United States and around the world.
SNAP Benefits

Continuing Education
Scholarships-Members are eligible to apply for several scholarships in adult education; undergraduate, lower and upper division courses. These scholarships can help finance continuing education through the Florida School Food Service Foundation (FSFS). Other opportunities include the GED Jumpstart, Schwan's Food Service and Nancy Curry Scholarship.

Training-education through a variety of professional development programs, academic assistance and coursework online, including a certification and credentialing program

.

Publications-Information through FSNA's publication, School Food in Florida, and SNA's award-winning magazine, School Nutrition, and website, offering resources, tools and the updated information on all the latest issues affecting the school nutrition industry.
FSNA Conference Discount
As an active member, you will receive discounts greater than the FSNA membership dues.
Health Benefits
Insurance Discounts-SNA members can receive 8% off car insurance through GEICO. Call 800-841-3000 and tell them you are a member of the School Nutrition Association.

New Accidental Death and Dismemberment Benefit-All FSNA members receive a $4,000 .00 group accidental death & dismemberment benefit AT NO COST! Lean more at www.ailife.com/benefits/SGK5N

Health Insurance Supplement-As a member of FSNA and SNA you can receive health insurance benefits. Visit http://www.floridaschoolnutrition.org and select the coverage that is right for you. Then, call the FSNA office to get the link to sign up.
Entertainment
Adventure Park Discounts-Receive discount tickets are avaiable to Walt Disney World, Disneyland, Universal Studios Orlando, Busch Gardens, Sea World, Cirque Du Soleil, Six Flags, and many many more!
Additional Meal Prices
School Level Breakfast Lunch
Elementary $1.60 $3.00
Middle $1.75 $3.00
High $1.75 $3.50
Pasco County Schools Food & Nutrition Services will be implementing a program called the Community Eligibility Provision (CEP).
What does this mean for our families?
All enrolled students of Pasco County Schools are eligible to receive a healthy breakfast and lunch at school at no charge to their household.
No further action is required. Each student(s) will be able to participate in these meal programs without having to pay a fee or submit a meal application.
A la Carte items including vending machines will still be available for purchase including additional meals and/or components of the meals.
Families can reach out to Food & Nutrition Services directly through Lets Talk, call FNS at 813.794.2480, or email FNS_Finance@pasco.k12.fl.us if they have any questions regarding this new program.