Tangerines are a variety of citrus fruits closely related to oranges. They are distinguished from oranges by their smaller size, loose, easily peelable skin and a more sweeter juicier flesh. As with oranges tangerines are an excellent choice for those watching their weight and monitoring their fat intake. According to the Produce for Better Health Foundation, one medium-size tangerine has only 50 calories, no fat and no cholesterol.. Nevertheless, they are a valuable sources of antioxidants, vitamin-A, and carotenoids. Tangerines are a winter season fruits, however, one may find them in supermarkets all year round. For the best nutritional value and flavor, select tangerines that are heavy for their size, richly colored and free of soft spots or brown areas. Store them in your refrigerator if you don't eat them immediately. You can wait up to two weeks to use them.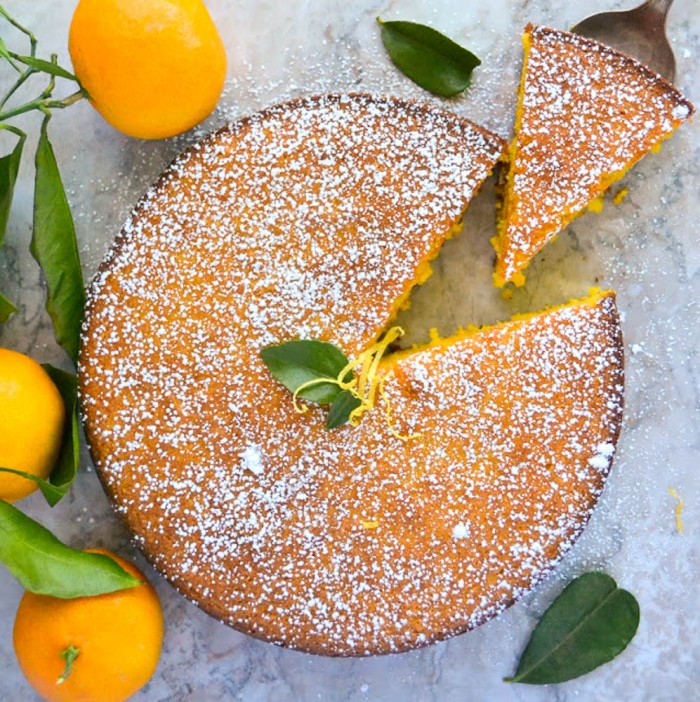 Minimal Monday: Flourless Whole Tangerine Cake (gluten free)
Ingredients:
3 large tangerines (to make about a cup of puree)
3 eggs
1 cup sugar
3 cups almond meal or almond flour
1 tsp baking powder
confectioner's sugar for dusting
Instructions:
Set oven to 350F
Step one is the only time consuming part of this cake. Wash your tangerines and put them in a saucepan covered with cold water. Boil for 15 minutes. Drain the pan, refill with cold water, and boil again for 15 minutes. This boiling removes the bitterness in the citrus skin.
Rough chop the tangerines and remove any seeds, do this on a plate so you don't lose any juice. Put it all in a food processor and process until completely smooth. You'll have to stop and scrape down the sides a few times. The color and smell will be amazing. My finished puree weighed 11 1/2 oz, and was about a cup.
Set aside, or refrigerate until the next day if you're doing this in 2 stages.
The rest is a one bowl deal: Beat the eggs and sugar until light and creamy. Fold in the almond meal, orange pulp, and baking powder, mixing until combined.
Pour into a buttered 9″ spring form pan.
Bake for 50-60 minutes, until lightly golden and a toothpick inserted in the center comes out clean.
Cool on a rack for 10 minutes, then remove from the pan to finish cooling.
Dust with confectioner's sugar. Decorate with some citrus zest if you like.