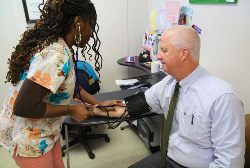 Dear Valued Employee,
I am pleased to write this letter of support for our District School Board of Pasco County wellness programs. One of our priorities is to create a culture of wellness throughout our district that both decreases the risk of disease and enhances the quality of life of our employees. Our wellness program builds upon our continuing efforts to help students reach their highest potential by enhancing the health, happiness, and motivation of our employees and community.
We have worked successfully over the past years with CareHere, Crowne Consulting and Med-Vision, creating and implementing a strategic wellness plan based on the needs and interest of our employees and their family members. The majority of our goals, including diabetes management and weight loss, have been met and in some cases, surpassed. As a result, we saw our claims drop by more than $2 million, a 34 percent decrease in diabetes related claims, and a 26 percent increase in diabetics receiving necessary monitoring tests.
We look forward to building on these successes and have expanded our wellness goals to include tobacco cessation and programs addressing hypertension, hyperlipidemia, and emotional wellness.
Sincerely,
Kurt S. Browning
Superintendent of Schools