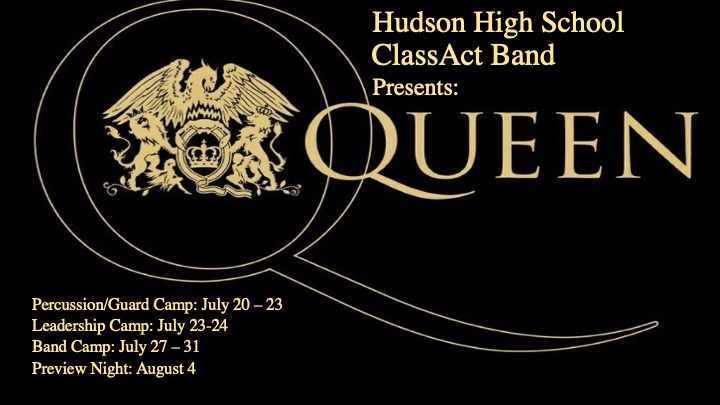 Here is an email I sent out last Monday. If you did not receive this email please email me your email address at cadams@pasco.k12.fl.us
Thank you!!
Good Afternoon Everyone!
I hope this email finds you and your loved ones doing well. Our new uniforms will be arriving in the fall and we will have around 100 members performing the music of Queen for our halftime show. I can't wait to hear that big sound!!! Please let me know if you will need an instrument by replaying back to cadams@pasco.k12.fl.us.
I have familiarized myself with the national guidelines for bands during the Pandemic and am waiting on more specific instruction from our county. When these guidelines are published I will share the procedures we will need to follow during band camp to keep each other safe.
All camps are free and will be held at Hudson High School. These plans are preliminary and might need to be adjusted due to the Pandemic. Updates will be shared through email, this web site, Hudson High Class Act Band Facebook page and Band App Hudson Class Act Band.
Percussion Camp July 20th – 23rd, 8am-noon
All percussionists and students interested in learning drums/xylophone will need to attend. We will have auditions for the first few days. The audition will consist of warm-ups on the top three instruments you would like to play for the marching season. We will also be learning our halftime music and stands music. Sherry Donataccio will be back to lead our percussion camp. Sherry is a ClassAct Band alumnus and graduated from USF with a Music Performance and Education Degree. Sherry is now an elementary music school teacher in Tampa.
Color Guard (Flag) Camp July 20th-23rd, 8am-noon
All Color Guard members will need to attend. We will have lots of fun learning the halftime show routine. We are very lucky to have Erin Carson and Mrs. Patellis as our Color Guard Instructors. Both are ClassAct Band Alumni and have served the band for many, many years!!
Leadership Camp July 23, 1pm-4pm & July 24, 9am-4pm
All students who were selected for leadership will need to attend this very important camp. The first day we will review all the marching fundaments which you will be teaching during band camp. On Friday Becky Sego will be leading the leadership workshop. You will learn how to motivate, organize, and work as a team though fun and silly games.
Band Camp July 27th-July 29th 8am-4pm & July 30-31 1pm-9pm
Everyone is required to attend this camp. For the first 2-3 days we will learn and review our marching fundaments so we can look sharp on the field. We will also learn our halftime show and stands music. The last 2-3 days we will learn the first song to our halftime show. The goal will be to learn the first song with all the moves on the field while playing from memory. To ensure a good band camp experience, take care of your body by eating breakfast/lunch and drinking fluids.
Band Parent Meeting & Halftime Show Premier Night August 4th, 7pm-9pm
We will be discussing the upcoming year and answer any questions. You will also be able to register as a Pasco County Schools volunteer, sign up for football games and other band events, pay your fair-share, and fill out necessary paperwork. This will be followed by the band premiering its Queen halftime show.
Parent Volunteers for Band Camp
If you are available during band camp to help with uniforms, first aid, hydration, shade, or handy man tasks we could use your help! Please email me the task you would be most interested in. Make sure to register and get approved as a Pasco County Registered Volunteer.
Thank you!
Here are some useful links and to follow to keep up to date with band events:
Website – Hudson High School Class Act Band
Facebook page – Hudson High Class Act Band
Band App – Hudson Class Act Band.
I look forward to seeing the ClassAct Band back together again doing what they do best! More information will be sent out once we get the guidelines from Pasco County School District.
Please stay healthy!
Terry Adams
Band Director
Hudson High School