Our LOLHS Scholarship Newsletter, "Scholarship Central", will be updated the first week of each month so keep checking back! Please note – the following list is NOT all-inclusive!  This is only a compilation of scholarship information received by the school.  Please be sure to check list this monthly, as new scholarships may be added!  Also, remember to check with the office of financial aid at the institutions to which you are applying.  There are many school-specific scholarships and grants available this way.  Virtually every college as a section of their website dedicated to scholarships available at their school.  If you need assistance finding this information, you can contact the school directly or see me for guidance.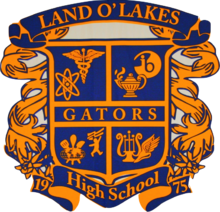 Scholarship Central
Newsletter
** NEW** African American Club of Pasco (4 scholarships)
Amount:                      $2,000
Date Due:                    5/30/18
Grade:                         12th
Requirements:       Graduating senior from a Pasco County high school; Any race/ethnic background.
How to Apply:             Applications available to pick up from Ms. Colón in room 210.
** NEW** Vicky King Inspiration Scholarship
Amount:                      $500
Date Due:                    5/7/18
Grade:                         12th
Requirements:            Current graduating LOLHS senior; Member of the Lady Gators Soccer Team; Zero discipline referrals this school year.
How to Apply:             Submit: Unofficial transcript, record of your attendance for this school year and a 1-page essay (12 pt font, double spaced) on one of the following topics: How do you inspire others?  or What does it mean to be an inspirational person?  Provide your name, email address and telephone number on your essay.  Must submit in person to Ms. Colón in room 210 or via email to: sfraneco@pasco.k12.fl.us
** NEW** Vicky King/Bond Grant Application 2018
Amount:                      $250 – $2,000
Date Due:                    5/3/18
Grade:                         12th
Requirements:            Current graduating LOLHS senior; Active member of the Council for Exceptional Children; Member of the Lady Gators Soccer Team.
How to Apply:             Applications available to pick up from Ms. Colón in room 210.  Complete application and a 400-word essay and submit via email to: sfraneco@pasco.k12.fl.us
** NEW** Kim Fish Legacy Scholarship
Amount:                      TBA
Date Due:                    5/3/18 at 2pm.
Grade:                         12th
Requirements:            Current graduating LOLHS senior athlete; minimum 3.5 unweighted GPA
How to Apply:             Applications available to pick up from Ms. Colón in room 210.  Complete application and a 400-word essay and submit via email to: sfraneco@pasco.k12.fl.us
Sydney Has A Sister Scholarship
Amount:                      $1500
Date Due:                    4/30/18
Grade:                         12th
Requirements:            Current senior who has a sibling with autism.
How to Apply:             Applications available at www.sydneyhasasister.com/applications.html
Davis Scholarship
Amount:                      $1,000
Date Due:                    5/22/18
Grade:                         12th
Requirements:            To learn more and to access the application visit: www.studentawardsearch.com/scholarships.com
Abbott & Fenner Scholarship
Amount:                      $1,000
Date Due:                    6/14/18
Grade:                         12th
Requirements:            Students will submit an essay on the topic that appears on the scholarship page of our website: www.abbottandfenner.com/scholarships.htm
Big Sun Athletic Essay Scholarship
Amount:                      $500
Date Due:                    6/19/18
Grade:                         12th
Requirements:            All student athletes are eligible regardless of the sport they are engaged in.  Must be a high school senior or be attending a post-secondary institution.
How to Apply:             For essay questions and to access the application visit: www.bigsunathletics.com
Raise.Me Micro-Scholarships
Amount:                      Varied amounts
Date Due:                    ongoing
Grade:                         9th – 12th
Requirements:            Discover colleges and earn scholarships for your academic and extracurricular achievements throughout high school.
How to Apply:             For more details: www.raise.me